Confessional Lutheran theology, hagiography, philosophy, music, culture, sports, education, and whatever else is on the fevered mind of Orycteropus Afer
Oh! The Wormwood and the Gall
Screwtape Utilizes Dan Brown's Blasphemy
The pretenders were pretty scarce. Until recently, I don't think I've read else inspired by
The Screwtape Letters
who stayed to the spirit of
C. S. Lewis
, except, perhaps
Peter Kreeft
with his
Snakebite Letters
. (Actually, my favorite Kreeft books are
The Unaborted Socrates
and
Between Heaven and Hell
.)
Ah, but now I've discovered
Eric Metaxas
and his 21st century Screwtape still dishing the dirt to nephew Wormwood. This time, it's
Screwtape on the DaVinci Code
. The senior devil tells his junior that since his "former colleague, the venerable Gallstone" helped Dan Brown pen such a book that purports to tell fiction as fact, it's time to use the
Code
to start harvesting a bumper crop of the damned.
After you read the essay, you might want to re-read the original
Screwtape Letters
. Don't have a copy? Follow the link below and order one. I'm also linking to the Kreeft books, in case Socratic arguing against abortion or discussions among three men who died on the same day (
JFK
, Lewis, and
Aldous Huxley
) sounds interesting.

The Screwtape Letters

C. S. Lewis Boxed Set (Screwtape, Mere Christianity, Great Divorce, et al.)


The Unaborted Socrates: A Dramatic Debate on the Issues Surrounding Abortion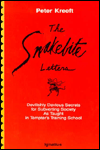 Snakebite Letters: Devilishly Devious Secrets for Subverting Society as Taught in Tempter's Training School



Technorati Tags: Da Vinci Code | Screwtape Letters | Eric Metaxas | C. S. Lewis | Peter Kreeft | Socrates | Dan Brown | Aldous Huxley | Wormwood